Modern and Stylish Tokyo Guesthouse
Sakuraya is a fully renovated guest house located 8 minutes walk from O ji ma station.
You can stay in a fully rented three story house, so you can enjoy a relaxing and private space.
We have a cleaning and disinfection company that cleans every nook and cranny of the house, so you can enjoy your private space.
Although this is a guest house, you can stay in a clean room like a high class hotel.
Reservations can be made through Airbnb and Vacation STAY!
You can book up to 19 people for a private house rental.
Families, friends, couples, and business travelers are welcome to use this house.
※In principle, you can apply for a minimum of 3 days and 2 nights.
Click here to make a reservation.
Room Introduction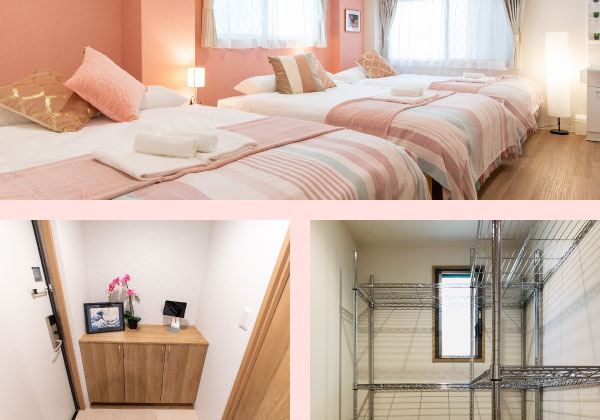 Self check in entrance with keypad, a dedicated luggage room for large luggage and suitcases, and a bedroom with a modern pink color scheme.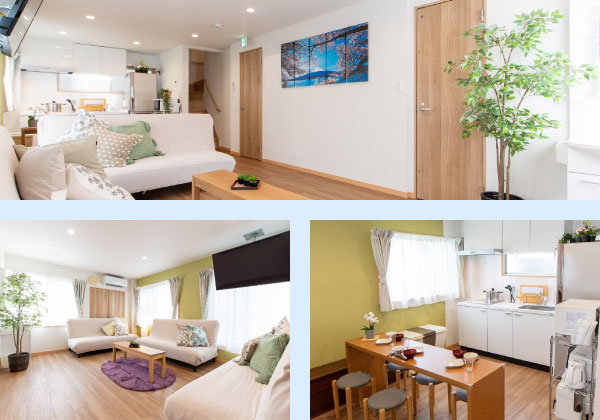 Clean and functional dining and kitchen area and spacious living room with a sofa bed for relaxing.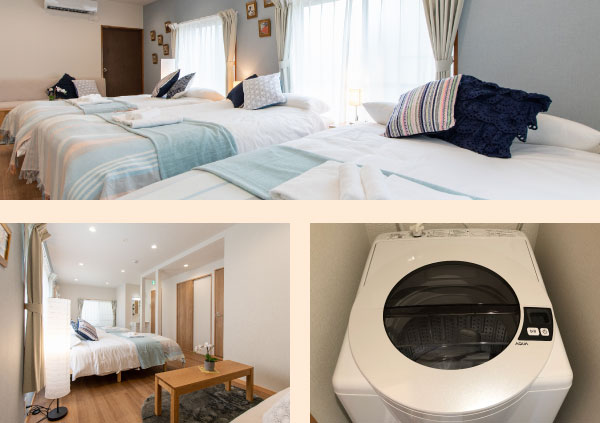 The bedroom is a fresh blue color scheme with a balcony with a large washing machine and drying clothes for convenience.
Kitchen and water area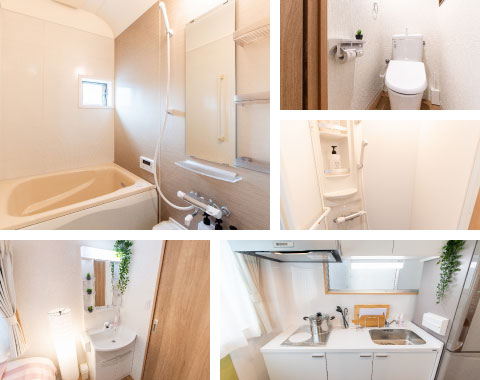 There are shower toilets on each floor and convenient shower rooms on the first and second floors, and a spacious and clean bathroom on the third floor.
Equipment and Amenities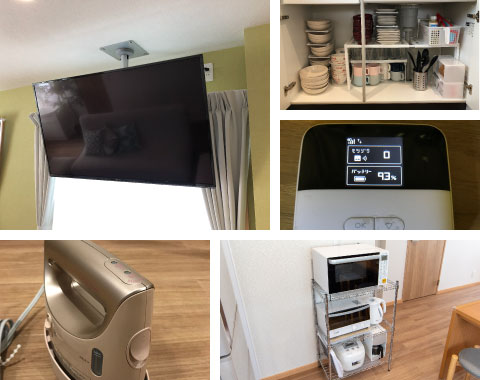 Rice cooker, microwave oven, electric kettle, cooking utensils, etc., and various amenities such as hairdryer, body soap, shampoo, etc., and Wifi, hangers, bath towels, etc., are available, so you can stay with nothing.
Three points to remember about TK Court Ojima Sakuraya
Thorough cleaning and disinfection
For your comfort, all rooms are thoroughly cleaned and disinfected by professional cleaners.
Our rooms are clean like a high class hotel, so if you are looking for a clean guesthouse in Tokyo, this is the place to stay.
Convenient location for sightseeing
It takes 8 minutes on foot from Ojima Station on the Toei Shinjuku Line, and 18 minutes on Bus and foot from Kameido Station on the Sobu Line.
Ojima Station can go to Shinjuku Station, the center of Tokyo, by a straight line, and Kameido Station has direct access to Asakusabashi and Akihabara, making it a convenient location for sightseeing.
Also, you can enjoy the Tokyo skyline to your heart's content with easy access to Tokyo Sky Tree.
Private guest rooms that can be used for a variety of
purposes We have been used not only for sightseeing in Tokyo withfriends, families, and couples, but also for corporate training and business trips.
Our fully equipped rooms are available for long term stays of up to 1 month.
The room rate is the same for up to 19 people, so the price per person is lower for larger gr oups.
Instagram